I suck at decorating my own house. I have good taste but hard time putting everything together.
My living room and foyer are kind of together- like, a very small thin metal railing is all that separates them in a 1.5 story space. This is the current layout:

We rent, so I can't paint, walls are all Sherwin Williams Interactive Cream with white trim. We have beige carpeting.

One of the walls of our living room (the back wall) is actually full sliding glass doors with vertical blinds. Our new sofa, being delivered tomorrow, is this:
Existing furniture includes an entertainment center (also a dark cherry, sorry can't find a bigger picture):

and a beautiful cherry and ebony open shelving unit.
The rest of the stuff (end tables, 2 poang chair in ivory and an ivory coffee table) is just Ikea and can stay or go.

In our foyer, we the same color paint, ivory stone tile, and I have this console table (it looks darker IRL, a reddish espresso):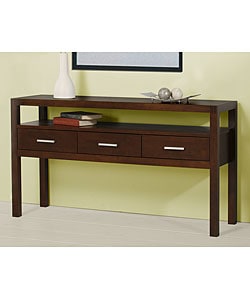 This weekend I bought this mirror to hang over the console table:

So, basically, my issue is that the house is boring, but hard to decorate. I need the spaces to coordinate, and I definitely need some color.
Suggestions? Help?