So early last month I was at the commissary when I realized a stone was missing from my e-ring. Distraught, I called USAA to see about filing an insurance claim. Once all the hoopla of an estimate was done, it would have been over 500 pounds (about 750 USD) to fix it. Because that was more than half the value of my previous ring, they said "no, we'll give you the value of your original ring toward a new one." Okay.
Ladies, I introduce you to my new ring. Diamonds and sapphires, though the Macbook camera makes the deep blue look purple for some reason!
I'm sooo excited!!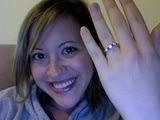 ETA: And of course it's tiny. I'll try to get a better pic.