Heidi Montag Calls Off Divorce, Reconciles with Spencer Pratt
By Jennifer Garcia
Thursday September 30, 2010 01:10 PM EDT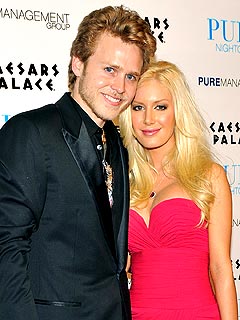 Spencer Pratt and Heidi Montag
David Becker/Getty
Love conquers all: At least it would seem so for
Heidi Montag
and husband Spencer Pratt.
Montag
filed for divorce
from Pratt, 27, in July, but after
spending time together
in Costa Rica ? and after Pratt
publicly apologized
to his wife ? Montag, 23, has decided take her hubby back.
"We are back together trying to make things work," the couple tell PEOPLE exclusively. "Costa Rica really put things in perspective. We do love each other and realized we do want to spend the rest of our lives together."
Montag has instructed her attorney, Jodeane Farrell, to file a dismissal of her dissolution action, the lawyer tells PEOPLE.
"After spending time together over these past several months Heidi and Spencer have decided to reconcile," says Farrell. "The papers are on their way to court to be filed."
The couple, who were
spotted smooching
earlier this month, will return to their status before the court filing, as husband and wife.