2 weeks later . . . I can button my normal jeans!
Wahoooey! I was so nervous to put them on for the first time.
Now the goal is to make these jeans too big and get back into the "skinny-girl" jeans that have been hiding out on the top shelf of the closet for 4+ years. : )
Wish me luck!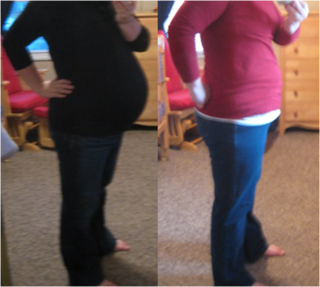 40 Week Bump (I miss u)        2 Weeks after birth!
[IMG]http://i73.photobucket.com/albums/i220/trickeytricky/463073_361060323935872_249254421783130_980011_919771394_o-1.jpg[/IMG]<BR><BR><a href=http://crapcutters.blogspot.com target="_blank">Cut the Crap: a weight loss blog</a><BR><BR><a href="http://www.myfitnesspal.com"><img src="http://badges.myfitnesspal.com/badges/show/1040/5494/10405494.weight-lost-sm.gif" border="0"></a><p style="text-align: center;width:226px;"></p>