How was the weekend everyone?
Any fun and exciting stories?
This weekend DH was sick and slept for about 6 hours extra on Saturday. We had a Bday dinner at my in-laws for my SIL's bf and then came home and crashed. Sunday I decided to get back on the exercise wagon and went for a jog with my dog, did some errands, got DH out of the house for a little, and then we spent the entire evening and night catching up on Breaking Bad. It really was a much needed weekend for DH and I, to just be alone.
 I guess this isn't exactly a funny story but it was entertaining for me so it counts, while I'm out in work out clothes and jogging in 45 degrees I crossed paths with this couple in my neighborhood who had their 4 dogs with them. The man was wearing a polo and khaki's and the women was in a floor length mink coat, with a HUGE chunky necklace on and all done up. What goes through some peoples heads when they set out to go on a walk?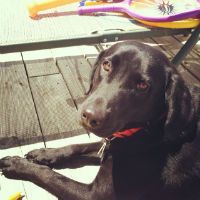 TTC 19 months ~Started RE in March 2014~
DH was not ready for IUI so we waited
~Started acupuncture in  May 2014~
~~BFP 7/6/14~~~EDD 3/14/15~~It's a girl!!~~