Jennie is taking Joey's 6 month pictures on Saturday and I need some outfit advice. Jennie has requested a solid color outfit for pictures with some murals and then any other outfits of our choosing. I figured 2 total outfits should be plenty.
Here's the solid color outfit:
And here are some possibilities for a 2nd outfit: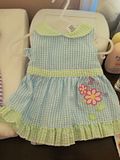 Thoughts on a second outfit or should I just stick with the solid pink outfit the whole time?