We've had some great news lately. Rowan had his hearing test at Boys Town on Friday. He has mild- moderate hearing loss in both ears. This is what we expected. We may have tubes put in in the future and they may improve his hearing.

He saw the eye Dr. yesterday his eyes are looking great. His optical lobe (in his brain) is very small (as is everything in his brain). They are severe and moderately small. But this is nothing that glasses can't fix someday.

We have had his Occupational Therapist from the school district out. She is helping Rowan to use all his muscles to keep things working the way they should. After she checked him out she said she really does think that he will walk someday. !!!!! His muscles work lets hope we can get the brain and muscles to work together.
We need to just get these seizures under control. While he is still having these he can't do much for developing new skills. It is like he is having a thunderstorm in his mind.

Also he has been taking an ounce of his feeding at almost every feeding. He is doing so well with his eating.
We (I) are doing much better lately. Good things all around. And it's my B-day Tomorrow!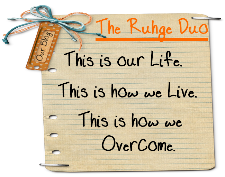 BFP 7/7/08, M/C 7/8/08, BFP 9/23/08, M/C 9/24/08, BFP 11/2/08 TWINS!,
Lost Our 10 month old Baby Boy Rowan 3/12/10 BFP 8/25/10