1 ) I recently relized that I neglected to inform all of you that I have 3 cats... They have been staying with my mother during the past two and a half weeks to avoid any pouncing, scratching, or overly rough playing with the pups so the thought of bringing them up seems to have escaped my memory. I have an older, 18 years old, calico named Minnie Mouse... (I was 4 when we got her) a mid aged, 7 years old, Himalayan named Meeko (He is a rescued show cat and his show name just kind of stuck) and a kitten, she's 16 months who we found outside our house the day we moved in, named wicked.
Anyway long story short my mother is going out of town so I am getting my original fur babies back... They have no idea we have puppies since I took them to my mothers a little less than week before they were born. Now here is the fun part, I bought a screen door for the office/ puppy room a few days after they were born so that I could keep DD out of there when I am off doing other cleaning things around the house but Wicked (who only lives up to her name when there is food out anywhere) is obsessed with trying to go in the room and see the puppies. The other two probably couldn't care less at the moment.
2) Pig Pen has recently, yesterday morning, stopped all attempts to eat from mamma. (This is probably my fault for cuddling him so much when I bottle feed him) So he is on the bottle now all the time. (I thank SO everyday for putting up with my failure but he know I have very little idea of when I am doing...)
3) We had a visitor!! A local AKC (as reputable as I could find out here) breeder came by our house after many e-mails back and forth to give us pointers and tips for finding right homes/ adoption contracts and other puppy raising ideas/ pointers for once they open their eyes. She also commented on how well I was doing for my first (and ONLY) time and that she could tell that I truly cared about these pups and Miss Bailey Peanut, I thought this was very nice!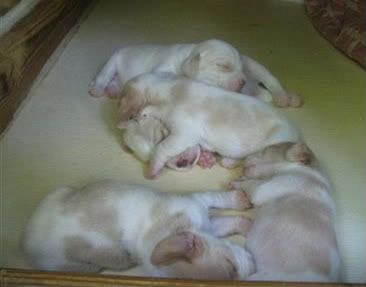 I love the floppy ear!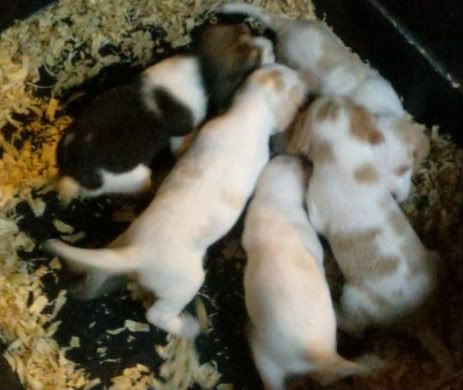 We added a little hay from the advise of the breeder. I think they like it!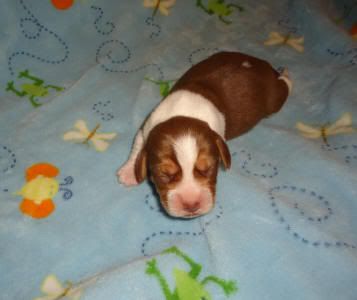 Lucy after a long escape from the box to the desk ( they aren't very far from each other but I'm sure for her little paws it was like a 5k!)