My husband is hoping to get a job in Wallingford. I have never been to Connecticut and was hoping to get a little insider thoughts on the area. Thanks in advance!!
My Chart
*Diagnosed with PCOS in my right ovary, Stage three Endo, IR, a deformed left ovary, and LUF*
S/PAIF & PGAL always welcome!!
*Trying for the 5th time to move onto Follistim/IUI in February*
*Got our Valentine's BFP! EDD: 10-25-12*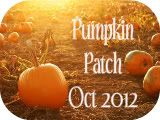 Let tomorrow worry about itself, today has enough worries of its own!