Decorating & Renovating
Dear Community,

Our tech team has launched updates to The Nest today. As a result of these updates, members of the Nest Community will need to change their password in order to continue participating in the community. In addition, The Nest community member's avatars will be replaced with generic default avatars. If you wish to revert to your original avatar, you will need to re-upload it via The Nest.

If you have questions about this, please email help@theknot.com.

Thank you.

Note: This only affects The Nest's community members and will not affect members on The Bump or The Knot.

Help with the color to paint my bookcases?
I want to paint my Billies. They're currently "medium brown", and I've been working on trimming them out with real wood trim and a matching stain, but actually getting the stain to match is not working. I've recently realized that with all of the dark books they look even more cluttered than they actually are!
So I'm thinking of adding the trim and painting, a la: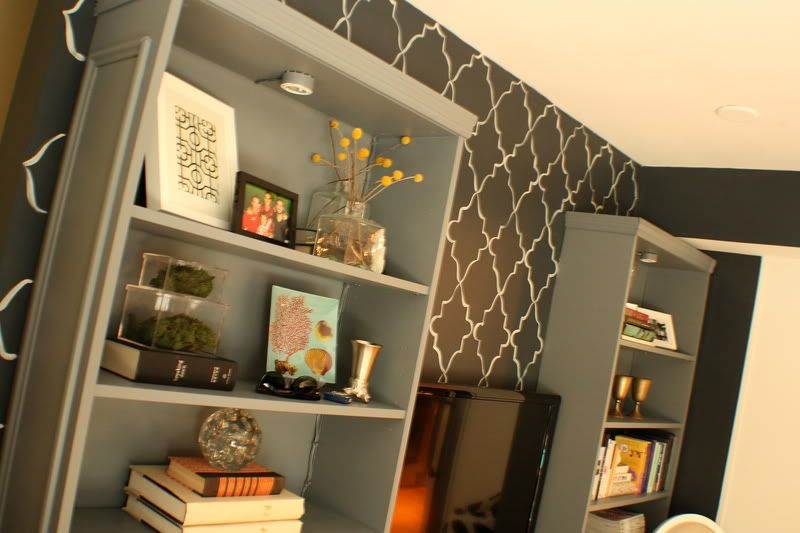 Any color suggestions? I like gray, but I'm needing a little more warmth. The wall color is MS Whetstone Gray (not my image, but true to life on my screen)
Other colors in the room are a darker slate gray (sofa), green (mid-tone, ranging from a lighter olive to a pretty natural, not-quite apple), orange, dark wood (black/brown laminate and dark walnut stained real wood) and creams/whites. Our style is eclectic, pretty casual, kind of goofy.

I'm wondering if I should stick with a mid-tone neutral, or one of the other colors in the room? White is boring to me, I don't want them white, but bright orange would be too much, so....? I like white with a color on the backs, but I have a LOT of books, I think the "punch" would be lost. These are not fancy-styled bookcases by any means!

Color suggestions would be hugely appreciated, major bonus points for specific color names that I can look up! (color is not my thing, to say the least)

Choose Another Board
Search Boards